About Marine Life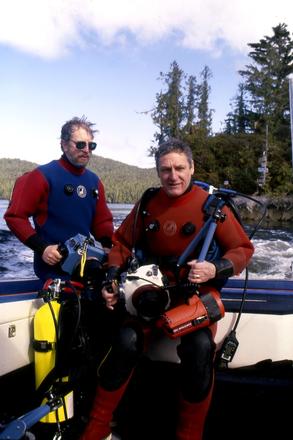 Andy Lamb is a marine naturalist and educator who has worked as Chief Collector at the Vancouver Aquarium and as a fish culturist with Fisheries and Oceans Canada. He has contributed to Diver, Western Angling, Nature Canada and Skin Diver, and is the co-author of Coastal Fishes of the Pacific Northwest. He lives on Thetis Island, BC.
Bernard P. Hanby is an avid photographer and scuba diver. He is the recipient of the Vancouver Natural History Society's 2003 Davidson Award for Conservation and Education, and serves on the Conservation and Research Committee of the Vancouver Aquarium Marine Science Centre. His photographs have appeared in numerous publications and are displayed in the Vancouver Aquarium Marine Science Centre and the Alaska Sea Life Center. He lives in West Vancouver, BC.
Available in hardcover at your favourite bookstore or direct from HarbourPublishing.com

Marine Life of the Pacific Northwest: A Photographic Encyclopedia of Invertebrates, Seaweeds and Selected Fishes
By Andy Lamb and Bernard P. Hanby, with photography by Bernard P. Hanby
ISBN 1-55017-361-8 • 8½" x 11" • 400 pages • 1,700 colour photos • $69.95
Harbour Publishing is an award-winning independent book publisher owned and operated by Howard and Mary White.
The company was established in 1974 and is based on British Columbia's Sunshine Coast. Harbour is well known for Raincoast Chronicles, a series of anthologies on BC coast history and culture, of which twenty have now been produced. Harbour is also the publisher of over five hundred titles in various genres, including The Encyclopedia of British Columbia; the bestselling Fishing With John by Edith Iglauer; Governor General's Award-winning The Fly in Autumn by David Zieroth; and many other prize-winning books, including The Encyclopedia of Raincoast Place Names: A Complete Reference to Coastal British Columbia, Simon Fraser: In Search of Modern British Columbia, A Stain Upon the Sea: West Coast Salmon Farming, Birds of the Raincoast: Habits & Habitat and The Great Bear Rainforest: Canada's Forgotten Coast.
Other well-known Harbour authors are Patrick Lane, one of Canada's pre-eminent poets; Arthur Black, beloved humorist and author of Pitch Black, which won the Stephen Leacock Medal for Humour; Carolyn Herriot, organic gardening guru and author of the national bestseller The Zero-Mile Diet: A Year-Round Guide to Growing Organic Food; Mike McCardell, whose bestselling books have raised over $65,000 for Variety—The Children's Charity of BC; Anne Cameron, the bestselling novelist; Meg Hickling, children's book author; the late Al Purdy, recipient of the Governor General's Award and member of the Order of Canada; and Chris Czajkowski, Canada's favourite wilderness dweller.
The Canadian Historical Association has cited publisher Howard White as "a tireless promoter and creator of quality British Columbia regional history," recognizing that Harbour Publishing "has nurtured and brought into being a remarkable range of works that capture the essence of British Columbia."
White is also an award-winning writer of fiction, non-fiction, poetry, articles and essays. His book Writing in the Rain won the Stephen Leacock Medal for Humour, and he has also been awarded a Canadian Media Club Prize, the Eaton's BC Book Award, the Canadian Historical Society Career Award and the Roderick Haig-Brown Regional Prize, among others. He is a member of the Order of British Columbia and the Order of Canada, and in 2003 received an honorary Doctorate of Law from the University of Victoria.
This extraordinary encyclopedia of Pacific Northwest marine life includes descriptions of some 1,400 species of seaweeds and animals and about 1,700 colour photographs. While it is particularly relevant to the coast of Oregon, Washington and British Columbia, the ranges of most of the included organisms extend from Alaska to central California, where Point Conception (just northwest of Santa Barbara) is the northern boundary to a southern California faunal region.
It is surprising to realize that coastal water temperatures from Alaska to California are amazingly uniform. You might think that California waters are warm, but they are not. They are cool and temperate, like the waters along the coast of BC. (August water temperatures along the coasts of Baja California, San Francisco, Victoria BC and southern Alaska are usually between 13˚ and 15˚C.) This is brought about by the nature of water currents in the North Pacific. Warm North Pacific currents sweep in a great arc clockwise across the ocean to Oregon and Washington where they turn partly to the north and partly to the south. This warms the northern regions and, together with upwelling of deep water, cools the California coast, thus balancing temperatures north and south. Even the winter temperatures vary only a few degrees along the coast. This thermal uniformity, relatively stable across 22 degrees of latitude and over a long period of time, has brought about a diverse and extensive fauna, the temperate marine fauna of the American North Pacific. These species are restricted to temperate conditions and are intolerant of warmer or cooler water.
Of course the Pacific Northwest itself is differentiated by the inland waters of Puget Sound, the Strait of Juan de Fuca, the Strait of Georgia and all the associated channels and fiords. Locally summer temperatures may be elevated and winter temperatures may be lowered in comparison with the outer coast. This is particularly true for areas around the mouths of streams and rivers. Such areas usually have fewer species than are found on the open coast. On the other hand, swift tidal currents agitate and mix the waters and create habitats rich in marine life.
Half of the species within this very large temperate west coast fauna are endemic (found nowhere else) as compared with less than one quarter of the European North Atlantic species. Unique genera and even families are conspicuous along the Pacific coast. Notable are the lithode crabs of which there are 13 genera and 26 species. Among the molluscs, chitons and octopod cephalopods have numerous species, more than in other oceans. Sea stars are exceedingly numerous in this region. No other region in the world has so many species, genera and families. Some scientists estimate there are as many as 92 species here. The fishes are interesting and unusual also. The live-bearing sea perch (Family Embiotocidae) contains 21 species in 20 genera. These fish give birth to large young. The two-metre-long wolf eel is related to the wolf fish of the North Atlantic. The greenlings, lingcod and sable fish, closely associated with the Pacific sculpins (Family Cottidae) are characteristic of northern seas. Many of them are endemic to the Pacific coast, and over 100 species exist here. Conspicuous and numerous are the rockfishes, cool water members of the scorpion fish family (Scorpaenidae) of which there are about 60 species along the Pacific coast.
While we are discussing the abundance and the diversity of the marine animals we must not forget the seaweeds—the great kelp forests and the rich intertidal algal and plant growth that provide habitat for so many marine animals. The great intertidal amplitude and the cool summer climate in the northern waters are conducive to abundance and good health in intertidal organisms.
Author Andy Lamb, as a biologist with the Canadian Department of Fisheries and Oceans and later at the Vancouver Aquarium, has been scuba diving and taking notes for almost 40 years. For 28 of these years he has teamed up with noted underwater photographer Bernie Hanby who has provided the illustrations for the text. Together they have created this significant new work.
The book is designed to be useful to beachcombers, divers, students and professional biologists and anyone interested in marine life. It is easy to use. The Quick Reference Guide and its diagnostic colour photographs smoothly direct you to the proper pages. Each phylum is introduced by a few descriptive paragraphs and then the numbered species and the photographs follow. Each species is given a common name, a scientific name, size, range, depth, description and natural history note. Appropriate and useful references are listed throughout the text. Species identification has been checked and rechecked by leading scholars. Dr. Michael Hawkes of the University of British Columbia contributed a substantial number of photographs of seaweeds and co-authored the botanical section of the book. Dr. Bill Austin of the Marine Ecology Centre in Sidney, BC, generously gave his advice concerning the difficulty in trying to identify sponge species. Sheila Byers shared her expertise and co-authored the extensive section on polychaete worms.
While we like to talk about the abundance of west coast marine life it must be said that the rapidly growing human population together with overfishing, coastal development and pollution have seriously reduced the richness. Let us hope that this comprehensive work will increase appreciation of marine life and contribute to its conservation. The book is a milestone in the photographic documentation of west coast marine life.
Murray A. Newman, PhD, Director Emeritus, Vancouver Aquarium
The Pacific Northwest
The abundance and diversity of its marine life has been a source of amazement throughout the history of the Pacific Northwest (or "Northeast Pacific," as it is known in scientific circles). This marine world provided First Nations peoples with cultural inspiration as well as being a source of food. It sustained the first European settlers and gave rise to many of the region's first major industries. Naturalists were drawn to it from the earliest days, diligently cataloguing and documenting these living treasures during the great voyages of discovery in the 1700s and 1800s. The marine environment of the Pacific Northwest is home to more than 10,000 life forms, and the task of identifying them is a great challenge. Many species are still being discovered and classified as the 21st century begins.
The purpose of this volume is to facilitate species identification for everyone interested in Pacific Northwest marine life—amateur and professional, novice and expert. It would be impossible to represent every species in one volume, but it is safe to say that, with more than 1,400 species and 1,700 images, Marine Life of the Pacific Northwest contains the most comprehensive and up-to-date photographic record of marine life in this region so far published. We originally set out to document invertebrates, because marine vertebrates such as finfish and marine mammals have been treated adequately in other works. In the end we did add some selective coverage of finfish, but we have concentrated on invertebrates and seaweeds.
We have also emphasized image over text. "A picture is worth a thousand words" is the premise that guided us in our 25-year quest to craft a photographic record of all such organisms that most observers of Pacific Northwest marine life are likely to encounter.
This project has been a labour of love that both of us feel privileged to have been able to carry out. With each successive intertidal trek, boating excursion and scuba dive, our sense of wonder has grown. But it would be irresponsible to record this marvellous undersea world without mentioning that it is seriously threatened by climate change, environmental degradation and overharvesting. As resources dwindle, more harvesting pressure is placed on the remaining marine life. This has resulted in population crashes of lingcod, rockfishes and northern abalone, among others. Time is running out. Over the last 100 years or more, various North American governments have had the foresight and commitment to create national, provincial, state and municipal terrestrial parks, but this vision and resolve have not been extended to the creation of No-Take Marine Protected Areas. Action is needed, now.
That is why in 1989 we founded the Marine Life Sanctuaries Society of British Columbia, a non-government organization whose primary objective is the establishment of a network of No-Take Marine Protected Areas. Within protected areas it would be forbidden to extract any living organism, but non-consumptive users would be welcomed and encouraged. A growing number of countries embrace this approach, and there is ample evidence that it has significant positive effects.
Pacific Northwest marine life raises major challenges for us, but its richness is still cause for celebration. We urge you to assist in the work of protecting the flora and fauna of this area, and at the same time to enjoy its magnificent diversity.
The Authors