Chapter Fifteen
The Japanese
"Boy, they were good," Trygve Arnet declared in his 1981 interview with Bob Bossin. "They made all their own spoons [fishing lures]. They'd get these big pieces of brass and cut them and polish them up and bend them the way they wanted them. Then they'd try them in the water, pulling them along to see they worked right. I fished right along with them. They were really good."
Ian MacLeod, like Arnet a salmon troller, recalled that when his family arrived in Tofino, all but two of the local trollers were Japanese. He described them as "the greatest people on earth when it came to fishermen. They co-operated so well. There were no radio telephones, but there were methods of communicating. If a man was in trouble, he raised one pole…If the weather looked bad, everybody would stay out until a certain point and then they'd all go in together. They wouldn't leave one guy by himself…it was bred in them to have respect for the ocean and everything pertaining to it."
Not everyone shared this admiration for the Japanese. From their earliest days in the province, their success as fishermen sparked bitter resentment within the fishing community throughout British Columbia. Japanese immigrants had been in British Columbia from the late 1880s, although initially in very small numbers. Like the early Chinese immigrants, single working men made up the bulk of these Japanese, and most intended to return to Japan after making their fortune. Many ended up staying, outfacing as best they could the antagonism they attracted from the fishing community and, more broadly, from Canadian society at large.
For over two decades, from the early 1920s until 1942, scores of Japanese lived in or near Tofino. By the time they faced evacuation as "enemy aliens" during World War II, they numbered nearly 100 in the Tofino area and over 200 Japanese lived in Ucluelet. At the time of their arrival on the west coast, most of these Japanese spoke marginal English and "fisherman's Japanese." Many came from Steveston, at the mouth of the Fraser River, where they had been fishing and working in the canneries. They shared a determination to make good on the west coast, to raise their families and educate their children there, participating as best they could in community affairs. But above all, they came to fish—a trade at which they excelled beyond measure.
Their arrival introduced a new type of fishing on the west coast of Vancouver Island. Rather than fishing only in the summer months to support the canneries, the Japanese adapted the small gillnet boats they used on the Fraser River to handle west coast conditions, and they began salmon trolling throughout most of the year. Interviewed for Westcoast Fisherman in June 1995, Johnny Madokoro recalled the first commercial troller to fish out of Tofino, yasumatsu Isozaki, who "claimed to be able to catch a spring salmon with a table spoon." The prowess of the Japanese fishermen entirely changed the pattern of local fishing. Alma (Arnet) Sloman recalled how "the men who lived in Tofino [followed] in the footsteps of the Steveston people…taking up fishing on a serious basis."
Although a small Japanese community existed in Victoria throughout the 1890s, far larger Japanese communities sprang up around the sawmills, docks, and canneries along the Fraser River, in Steveston, and in Vancouver. The fishing skill of the Japanese, and their growing dominance in the industry, sparked resentment and anger from white and First Nations fishermen alike, which sometimes erupted into confrontations and violence. In 1893 the Fishermen's Benevolent and Protective Association in New Westminster lobbied to curtail the right of Japanese and Chinese to obtain fishing licences, and demanded a reduction in the number of licences granted to them. In various guises, such campaigns continued on and off for decades. Even so, according to Ken Adachi in his book The Enemy That Never Was, by 1901 Japanese fishermen held 1,958 of a total of 4,700 licences issued in the province, and by 1919 they held 3,267 fishing licences, nearly half the number issued that year.
The earliest Japanese in Clayoquot Sound appeared in the late nineteenth century, during a surge in emigration from Japan that brought thousands of Japanese into British Columbia. The majority of these new arrivals headed south to the United States, but a significant number remained; by 1901, some 4,600 Japanese lived in British Columbia. A handful of these showed up on the west coast as itinerant workers before the turn of the century, evidenced by a note to Walter Dawley in 1899 from Mr. J. Tanaka in Alberni, asking Dawley to provide for Japanese workers hired to cut cordwood at the Rose Marie mine. The Colonist also noted the presence of a handful of Japanese fishing off Port Renfrew as early as 1901.
Due to long-standing Japanese involvement in the fur seal hunt in offshore international waters and in the North Pacific, Japanese vessels and Japanese faces became familiar in Victoria and along the outer coast of Vancouver Island during the heyday of sealing. Sometimes Japanese sealing schooners showed up in Canadian waters seeking safe harbour or to take on water and provisions, and in the later years of the fur seal hunt, some Japanese sealers offered employment to experienced Canadian seal hunters and captains who set sail under the Japanese flag. In April 1909 the schooner Matsu Maru carried several seal hunters from Victoria to help man the nine "hunting boats" on board, and the vessel put in at Hesquiat en route north. Two Japanese crew members jumped ship there. According to the Colonist, "The Japanese had watched their opportunity and swam ashore, taking to the bush beyond the spit at Hesquoit…They took to the woods and hid until nightfall when they found a small canoe belonging to an Indian and made their way 10 miles [16 kilometres] down the coast to Sydney Inlet. They landed there and met an Indian, by name Hesquiot Frank, with whom they arranged for the trip to Clayoquot." Whether or not he intended to, "Hesquiot Frank" delivered the men straight into the hands of the acting police constable at Clayoquot, who detained them and sent word to their captain. The Matsu Maru picked them up off Lennard Island, from "a gasoline launch belonging to Mr. Jensen," their bid for freedom foiled.
The following year, in 1910, the Colonist commented on the movements on the west coast of the Japanese sealing schooner Shinano Maru, under the command of the well-known Captain Voss of Victoria. Father Charles Moser observed this schooner with interest, commenting in his diary that it "anchored near Opitsat to get a supply of water. Sailors in gumboots rowed their sealing boats into the creek behind the village filled them with water and rowed them back to sch. In this fashion many trips had to be made." Having provisioned at Clayoquot, the vessel then headed for Quatsino Sound, where once again two Japanese sailors jumped ship. Captain Voss, "aware of troubles in store for his vessel if the men were left on Vancouver Island, urged the Indians to join in a search for them." Two days later, attracted by the smell of cooking, the "hungry deserters came out of the bush glad to escape from the timber and hunger among the trees."
The whaling stations on the BC coast attracted a considerable number of Japanese workers. At Rose Harbour on Haida Gwaii, where whaling began in 1910, the station relied almost exclusively on Japanese to do the skilled and difficult job of flensing, while Chinese labourers rendered the carcasses. Although exact records are no longer available, the whaling stations on Vancouver Island's west coast, established several years before Rose Harbour, also employed many Japanese workers. In February 1913, Captain Gillam, on board the Tees, heard the case of two Japanese workers from the Kyuquot whaling station who had been arrested by Constable Ewen MacLeod for selling liquor illegally. As Justice of the Peace, Gillam found both men guilty, charging each a fine of $200 or six months in jail. They paid the fines.
In 1907, following a period of nearly seven years when Japanese immigration to Canada declined to a trickle, over 8,000 Japanese arrived in British Columbia, largely single men. Even though nearly half of these subsequently went on to the United States, their presence ignited vitriolic protest in BC, inspired by fearsome propaganda about the "yellow peril" posed by Japanese and Chinese alike. Fearing for their jobs in the face of competition from these hard-working immigrants, anti-Asian elements ran amok. The scene in Vancouver turned particularly ugly, fuelled by labour union rhetoric, by some politicians, and by editorials like that of September 9, 1907, in the Vancouver Daily Province: "We are all of the opinion that this province must be a white man's country…We do not wish to look forward to a day when our descendants will be dominated by Japanese, or Chinese, or any colour but their own." The newly formed Asiatic Exclusion League staged a protest and parade in Vancouver in September 1907, which ended with a mob of several thousand people rampaging through Chinatown and through the area around Powell Street known as "Little Tokyo." Singing "Rule Britannia" and shouting anti-Asian tirades, the crowd broke windows, damaged property, and rioted for several hours.
Despite escalating anti-Japanese sentiments in BC, and another sharp reduction in immigration, the Japanese communities in the province continued to grow slowly, in part because Japanese women, exempt from the immigration restrictions, began to arrive in numbers. Married men sent for their wives and families to join them, and single men sought out "picture brides," who courageously set sail from Japan to wed men they did not know. As the families grew, the Japanese communities gained stability and grudging acceptance from the surrounding population. By 1921, the number of Japanese Canadians in British Columbia had risen to 15,000; a decade later it reached 22,000. According to historian Jean Barman, given the complete halt of all Chinese immigration in 1923, "racism was increasingly concentrated on the Japanese," not only because of their numbers but also because they "were becoming increasingly economically competitive."
Continued pressure from both white and aboriginal fishermen led to tighter licensing restrictions for the Japanese on the Fraser River during the 1920s, and a significant reduction in Japanese fishing licences there. According to Geoff Meggs in his book Salmon, "between 1922 and 1925 more than 1,000 [Japanese] men would be driven from the industry." For those determined to continue fishing, the reduction in Fraser River licences, combined with poor sockeye runs there, led them to fish elsewhere.
Japanese fishermen had long been aware of the potential on the west coast, and they also knew the tricky politics involved in fishing there. As early as 1904, Mr. J. Tanaka revealed his knowledge of the situation in a letter to Walter Dawley, asking about the dog salmon run at Clayoquot. He asked if "the Indians make trouble if some another men will do catch it by net." Having heard from other Japanese of the abundance of dog salmon, Tanaka wanted to send "many fisher," but he was unsure of the timing. "I shall be glad if you will kindly let me know about the season and complaint of Indians."
From 1917, Japanese fishermen made their presence more widely felt on the west coast of Vancouver Island, by then appearing often around Ucluelet and Tofino. One of the first to fish near Tofino, yasumatsu Isozaki, reportedly returned to Steveston saying the salmon seemed so plentiful and easy to catch they virtually jumped into the rowboat. As troubles within the Fraser River fishery grew, the number of Japanese fishermen heading toward the west coast increased. According to Mr. W.G. Ellison of Port Renfrew, quoted in the Colonist on April 16, 1919, "An average of 15 Japanese small fishing craft were in the harbour each night on their way up the West Coast…Three years ago a Japanese would not have been seen around Renfrew during the fishing season." That same spring, Father Charles Moser remarked in his diary the presence of Japanese boats fishing off Hesquiat for spring salmon, alongside the local aboriginals.
In the spring of 1921, over a hundred Japanese fishermen came to the Ucluelet area to troll for salmon, sparking angry protests from local fishermen about the number of trolling licences allotted to the Japanese. The presence of these and many other Japanese fishing on the west coast emerges clearly in the census of 1921. In early June, when the census enumerator for Ucluelet, Wilfred Thornton, made up his lists, he noted over 120 Japanese fishing vessels in the immediate area. His enumeration also reveals several Japanese families already living at Ucluelet. Up at Clayoquot, enumerator George Anderson of Vargas Island also diligently listed all the Japanese vessels that happened to be in the Tofino area during the first week of June when he was counting heads. His records reveal over eighty "gasboats" with Japanese crew anchored at Clayoquot or Tofino; no Japanese households or families yet appear at either location. The census names every boat owner and crew member, though most boats had only one person aboard. These Japanese vessels far outnumbered the boats owned by local people in 1921, and they must have presented an extraordinary sight at the time, lying at anchor en masse in Ucluelet harbour and at Clayoquot and Tofino. The Japanese fishermen listed in the 1921 census include many who subsequently took up residence on the west coast. In November 1921, the Colonist described one Toyojiro Nakamoto as "Japanese fish broker of Tofino." Nakamoto evidently stationed himself there as a fish buyer for the sizeable Japanese fleet; some records indicate the presence of a Japanese fish buyer in Tofino as early as 1917. By April 1922, the Colonist sternly noted that "Fishery patrol vessels…have gone to the West Coast to keep an especially sharp eye on Japanese trollers."
In response to this growing presence, both Caucasian and aboriginal fishermen on the west coast demanded the Department of Fisheries enact a local residency requirement for salmon trollers. On March 1, 1923, the residency requirement came into effect. By the end of that year, some ninety Japanese fishermen and their families had settled on the west coast: fifty in Ucluelet, ten in Bamfield, twenty-five in Tofino, and six at Clayoquot on Stubbs Island. Most of these people hailed from the Wakayama prefecture in Japan, and according to Masako Fukawa in her book Spirit of the Nikkei Fleet, two-thirds came from one village called Mio.
Prior to the residency requirement, the Madokoro family had already settled near Tofino. In 1922, nine-year-old Johnny Madokoro travelled from Steveston up to Tofino aboard his father's 9.75-metre boat KM, a gillnetter powered by a seven-horsepower Vulcan engine. They made the trip in tandem with Johnny's uncle Denjiro, in his boat the DE. When they rounded Grice Point, the tide was running, sweeping them rapidly toward Tofino. Johnny, who was used to the bigger town of Steveston, felt disappointed by the place: "'How rinky-dinky!' I was not impressed…'yikes!'" Two years earlier, Dorothy Abraham's first impressions of Tofino when she arrived as a war bride from England were much the same: a "little village of a few straggling houses, a lifeboat station and a road, if it could be called a road…[that] did not reach anywhere." The Madokoros chugged up Tofino Inlet to the property on the arm of South Bay known as Maltby Slough, where his uncle had already settled, along with some six other families, about eight kilometres from Tofino.
This earliest Japanese settlement at South Bay became established in an area near a number of older settler homesteads, some of them still occupied in the early 1920s. Most settlers who pre-empted land in the vicinity of South Bay, like the early settlers in Grice Bay, had either moved into Tofino or given up and gone elsewhere. When the Japanese arrived, Haray Quisenberry and his wife still maintained their homestead on Maltby Slough, where they had lived since before the turn of the century in their little home with its wide verandahs, described by Dorothy Abraham as "scrupulously clean and a haven of happiness." Their garden boasted a small orchard, and they became famed locally for their strawberry wine. In the late 1920s, forced by ill health to leave their beloved home, the couple sold what they could and rowed for one last time down the inlet, both wearing their best clothes in which they had been married some forty years earlier. "They were a picture…" wrote Dorothy Abraham. "She in her voluminous garments, the long skirt and the hat with plumes looking so out of place in a row-boat, rowing for all she was worth." The Quisenberrys' orchard provided fruit to chance visitors for years to come; even in the late 1960s, young hippies exploring the area found apple trees still bearing fruit.
George Maltby also lived nearby, sturdily maintaining his large vegetable garden at the head of the tidal slough that bears his name in local parlance, known on the maps as English Cove. Maltby rowed regularly down the inlet on the ebb tide to visit Tofino on Boat Days, and to sell his vegetables. Arline Craig recalled Maltby stopping by her family's home on Bond Island; her mother relied on his produce and would save all her cotton bags for him, every sugar sack and flour sack she could spare.
John Grice had taken up two large tracts of land on South Bay, and according to Walter Guppy in Clayoquot Soundings, the first Japanese who came to the area rented their land from Grice. Johnny Madokoro believed that his uncle Denjiro had purchased the land he occupied in South Bay, but he likely rented the land from Grice, for legal documents show it to be in Grice's name at the time of his death in 1934. Only sketchy accounts survive of this Japanese settlement in South Bay, but evidently the place proved unsuitable for the newcomers. The fishing grounds were far away, the anchorage difficult, and navigating the channel through the mud flats presented too many risks. The little settlement, with its cluster of houses and makeshift wharf, did not last long, and the Japanese there moved nearer to Tofino. Traces of their first settlement lingered well into the 1930s, recalled by Anthony Guppy in his book Tofino Kid. "I can remember when I was still quite a small boy going up the inlet…and seeing the old village where the Japanese community had once lived…The Japanese houses, precariously built on slender tree trunks driven into the muddy bottom of the slough, had mostly all tumbled down by then, but I was greatly intrigued by the sight of an entire village devoid of its inhabitants."
Kamejiro and Tama Kimoto, with their seven children, and two other families chose a different location to settle when they first arrived in 1922. They moved into the old abandoned hotel on Stockham Island. The Kimotos travelled from Steveston in the family's gillnetter, the 9.75-metre KK, and tried to make the most of their uncomfortable new home. "The hotel used to leak. We'd put pots and pans all over the place," Tommy Kimoto recalled. "It was pretty wrecked and it was haunted." Fearing the spirit of an aboriginal woman said to haunt the hotel, Kamejiro Kimoto reportedly refused to sleep there, preferring his boat. At Christmas the children decorated a tree to cheer the place up: "We had no money for fancy store-bought decorations, so we used the most colourful things that we had," Mary Kimoto recounted, "bright orange, shiny red and light yellow fishing plugs and flashers. We also stuck some oranges in the branches, but they were special and expensive."
Within eighteen months, the Kimotos moved over to Stubbs Island, which the Japanese called Nakanoshima. Along with half a dozen other Japanese families, they leased land from Walter Dawley and built their houses toward the southeastern end of the island, above a small rocky beach. The Kimotos eventually had a home with four bedrooms, an attic, and a porch with the ofuru, the heated Japanese bath. Everything was carefully crafted by hand; even the sink was made from local wood. "I guess you could say the place on Clayoquot was more or less a shack," recalled Tommy Kimoto, "but it was nice there." Like the other families, the Kimotos grew vegetables, and they shared a well with the Seguro family next door, the water "so clear and sweet that the hotel folks [from Clayoquot Hotel] would come to draw water for their guests." Other families on Stubbs Island included the Igarachis, Seguros, Karatsus, Katsuros, yoshiharas and Okadas. The children all enjoyed exploring the island, some of the boys particularly intrigued by the old disused jail. Tommy Kimoto's mother would try to scare them with mock threats, saying badly behaved children would be locked away there.
In 1923, Umetaro Morishita went to live in Storm Bay on Tofino Inlet, just past Grant's Point, becoming the first Japanese resident to build a house in the area the Japanese called Nishikage. Others followed suit, including the Madokoros, who built their home in Storm Bay with lumber from the Darville sawmill, rafted down from Calm Creek. In the end, some six adjoining tracts of land in Storm Bay, about half a hectare apiece, became home to Japanese families. This land had been part of John Eik's original Crown-granted pre-emption, Lot 115; due to various land deals among the early pioneers, it had been subdivided in 1928. The subdivision, containing the sections where the Japanese lived, belonged jointly to Eik, Jacob Arnet, and John Grice.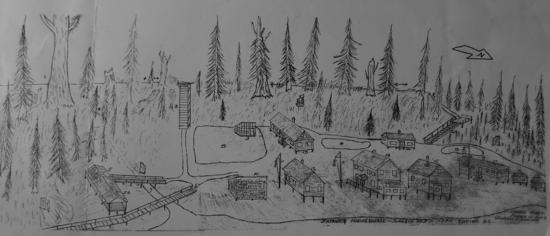 Several clusters of Japanese settlement, locally called "Jap Towns," emerged in and around Tofino. The one at Clayoquot, home to at least six families, stood on land rented from Walter Dawley. The one at Storm Bay comprised six narrow strips of land stretching from the water, crossing the main road leading into town, and extending up the opposite bank. Near the Storm Bay properties at least one other Japanese family, the Kondos, built a house. Another Japanese settlement, the one nearest town, stood on land leased from John Eik, at the site of his former chicken ranch, on the waterfront below the now famous Eik Tree. Five families initially built their houses and lived here, each household paying Eik two dollars rent per month. Later, a few more families also settled there. Other Japanese lived near the current location of the Marina West Resort, and in various houses they rented around the town. In the 1930s, the Mori family rented a house belonging to the much-loved local character "Cap" Thompson, regularly providing him with meals.
Of the Japanese families living at Clayoquot on Stubbs Island, Naoichi and Sen Karatsu had the largest family, raising nine children there. One of the six Karatsu children born at Clayoquot, Ruby (Karatsu) Middeldorp came into the world with the assistance of their neighbour, Mrs. Okada. "My dad gave us all Japanese as well as English names," Ruby explained. "I don't know how he dreamed up our names, but my brother Rennie was named after the name on the packages of Rennie Seeds, and my sister Norah after the Princess Norah." Their father had served as a medical orderly in the Russo-Japanese war, and his skills came in handy locally. He provided medical aid to the Tla-o-qui-ahts when requested and became a regular visitor to Opitsat. He helped to vaccinate children in that village against smallpox, as well as inoculating the children on Stubbs Island. In Spirit of the Nikkei Fleet, Masako Fukawa described how, "on one occasion a local tribe repaid [Karatsu] with a canoe full of kazunoko (herring roe)." Another Japanese resident of Clayoquot also provided medical care for the surrounding community. From her years growing up on Bond Island in Tofino Harbour, Arline Craig vividly recalled Mrs. Igarachi, a trained Japanese nurse: "She was really nice. We saw her whenever we needed help." According to Mickey Nicholson, who lived at Clayoquot, where his father George managed the hotel and beer parlour from 1925 onward, "[Mrs. Igarachi] was almost the same as a doctor. Everybody depended on her."
In Tofino, the Japanese children attended public school, followed by three hours of Japanese school. The public school in Tofino expanded in 1927 to accommodate them, becoming a two-room structure with two teachers, one for the "Little School" and one for the "Big School." From only sixteen children in 1923, enrolment grew to forty-three in 1926, and by 1935, fifty-eight students attended school in Tofino. For the children over at Clayoquot, a government-funded school operated from 1924 onward, initially with an enrolment of eighteen children, though it generally stood at fourteen or fifteen. In July 1927, the Clayoquot teacher, Stanley Flitcroft, "gave all his senior pupils a very enjoyable outing with a launch ride to Lennard Island," according to an article in the Colonist. "Flitcroft states that some of his pupils are of far above normal intelligence, the names on his honor roll are: Tommy, Bobbie, Jackie & Mary Kimoto, yoshize yoshihara and William Okada." An earlier teacher at the Clayoquot school, Miss M.E. Thompson, taught the children a rousing school song that Mary Kimoto never forgot. Every day, to the tune of "O Christmas Tree," the children belted out "Our school is by the seashore, O Clayoquot, O Clayoquot."
Ruby Karatsu attended this "little red schoolhouse" at Clayoquot for her first years of school in the late 1930s, with Mrs. M.G. Barr as her teacher. The Barr family, with their six children, lived on Stubbs Island in a house next door to the school during the 1930s, providing a needed boost to the enrolment. But by 1938, with only half a dozen or so children attending, the school no longer met the provincial quota and had to close. The closure may have been hastened by the school's location; erosion of the sandy beach on Stubbs Island caused more than one building to collapse onto the beach over time, and the school stood near the edge. Children from Clayoquot then went to Tofino to school, rowing two kilometres back and forth every day. Along with the other Japanese children in town, Ruby Karatsu attended Japanese school after her regular classes, and rather than row back and forth every day to the island, she often stayed in town with her older sister Alice, who had married and was living there. After one year, the Clayoquot School reopened, again with Mrs. Barr as the teacher. It closed permanently halfway through 1942, following the expulsion of the Japanese from the coast.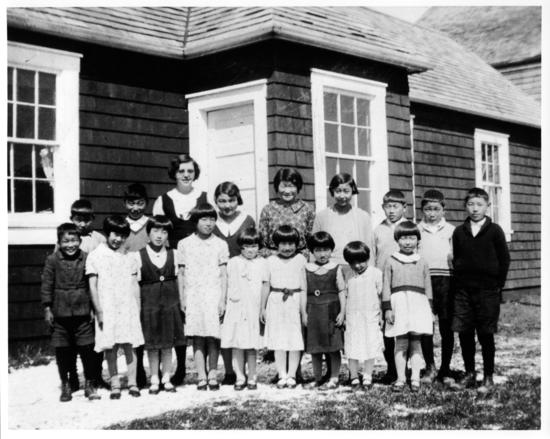 In his book Tofino Kid, Anthony Guppy recalled the rough little Tofino school building he attended in the late 1920s and early 1930s, "surrounded by a jumble of logs, stumps and salal thickets in the cedar and hemlock rainforest," with a plank walkway leading over swampy ground to the front steps. He never forgot how various teachers enforced discipline. "Peter Grant employed a long, polished wood pointer; Miss Apts used a highly flexible fly-swatter. Miss Coaton [Coton] acquired a piece of belting from the machine shop, while Bob Gale used a regulation school board supplied leather strap, and not always fairly. I remember Murdo MacLeod spending hours beating the palms of his hands on a rock to toughen them up." With no lighting other than an oil lamp, the classroom often became too dark to read or see the blackboard, and in heavy storms the teacher's voice would be drowned out by the hammering rain on the roof. Parents and other volunteers cleared a patch of land for a playground, and the boys could play soccer, although "since the field was dirt, not grass, we played a local version of the game called mud sharks."
During the 1920s and 1930s, strong childhood connections developed between the Tofino and Japanese schoolchildren. Ronald MacLeod vividly recalled his best friend, Ikua Nakai, and another boy, "a truly spoiled child," whom some Japanese thought to be a reincarnation of the Buddha. Over at Clayoquot, Joan (Malon) Nicholson, granddaughter of Walter Dawley, became inseparable best friends with Gloria Karatsu. The two little girls happily played together on the beach and in the sand dunes, scampering back and forth along the boardwalk linking the Clayoquot Hotel to the Japanese section of the island. Ruby, Gloria's older sister, walked the same boardwalk every day several times: back and forth to the school, and also every afternoon at the behest of her mother, when she went to stand on the hotel porch, looking to see if her father's boat had yet come into sight, returning from his day's fishing. Sometimes the children would play at the old fish saltery on the island, running noisily up and down the outside wooden stairs.
At the Clayoquot Hotel, managed by George Nicholson, his son Mickey recalled, "We saw a lot of the Japanese. They were good customers. The Japanese liked beer. They made a point of trying to get along with the white people and they did." Ruth White, who lived on Stubbs Island from 1941 onward with her husband Bill, remembered two Japanese girls named Celia and Ivy who would ride a horse bareback up the beach. "They were both very Canadian," she said. Father Charles Moser approvingly noted in his diary the numerous occasions when Japanese fishermen offered him free boat rides to Kakawis: "Charges nil. White man would not do that." Once Father Charles travelled down from Kyuquot on a Japanese fish packer, the owner insisting that he take the only berth aboard. Like other boat owners, Japanese fishermen could also be drawn into the unhappy business of helping police take runaway children back to the residential school at Ahousat or to Christie School at Kakawis on Meares Island. On one occasion in 1926, Father Charles noted that Constable Bradner arrived at Kakawis on board a "Jap boat" with "two truant girls from the cannery."
The Japanese of the Tofino area became actively involved in community events, often organizing large, inclusive gatherings. Mike Hamilton, who worked with Hilmar Wingen in the Tofino Machine Shop in the 1920s, recalled: "It was customary for the Japanese community after the fishing season to put on a sort of party and banquet to which all the village was invited…No expense was spared in providing a feast to gladden the heart of any gourmet." Japanese-hosted picnics in the summertime also became regular events. On Dominion Day in 1927, they hosted a community picnic on Echachis Island, making a special trip over to Kakawis to invite the entire school. Father Charles wrote: "A spokesman of the Japanese colony here spoke to me inviting the Christie school to their picknick tomorrow at Echachislet, they would furnish the boats." The Colonist covered this same "picknick" in detail: "Field sports were staged under Tyomi Onami, secretary of the Japanese Fishermen's Assn. Foot race: Rev Mr Walter, Mr Morishita, Mrs Hamanaka, Mrs Jennie McLeod, Mrs Kami, Mrs V Evans. In the evening a grand entertainment and ball was staged at the Clayoquot Hotel, at which Harry Hay and Jimmy Williams, assisted by Mrs Grant, amused the audience with skits and monologues, and humorous recitations by Sgt Major Bailey, of Little Qualicum. Music by the dungaree band, Andrew Emerson and Japanese songs were sung and interpreted by Tyomi Onami, followed by Mrs Jim Anderson on piano."
More such events followed. "A children's party was given by the resident Japanese at the Clayoquot Hotel," reported the Daily Colonist on March 10, 1929, "in celebration of the opening of the fishing season, to which all white residents and their children were invited. The Japanese were splendid hosts, and spared neither pains or expense. There was music, dancing, games and supper." A few months later, another special event for Dominion Day: "The Japanese residents gave a grand picnic at Kelsomat Beach, to which all residents were invited, and entertained royally, being conveyed there by a small fleet of launches…Mr Morishita and Mr Onami spoke on behalf of the Japanese colony." Later that year, just before Christmas, the Daily Colonist noted a "pre-Xmas entertainment given by the Japanese residents at the Tofino Community Hall, at which over 100 local residents partook."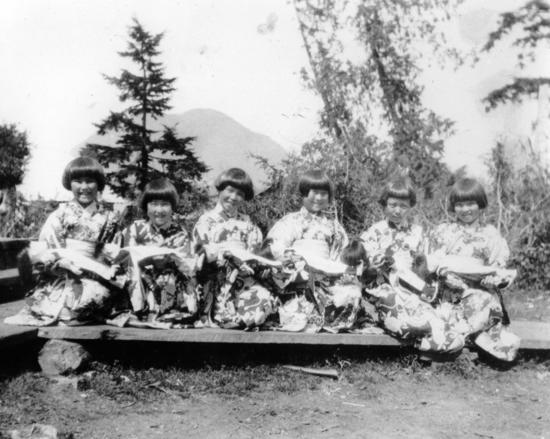 The Japanese in Tofino always took pains to participate in significant community events. In late August 1927, scandal rocked Tofino when well-known resident Edward Leach was murdered. Dorothy Abraham discovered his body in his boat on Clayoquot Spit, together with the body of his beloved dog. A war veteran and fisheries patrol officer, Leach had lived for a time in Fred Tibbs's castle on Dream Island, and later on Strawberry Island. His murder sent shock waves throughout the area. Father Charles Moser recorded in his diary: "Sept 1 Arrived at Clayoquot wharf by outside passage 5:30 AM. Got a Japanese fisherman to bring me to Kakawis for $1.00. He told me that 3 Indians from Opitsat are suspected of having murdered Mr. Leech." The whole of Tofino turned out for Leach's funeral in a long cortege, including all the local Japanese. Leach's coffin was placed in the lifeboat and escorted to the town cemetery on Morpheus Island by a mass of boats: seiners, Japanese trollers, launches, rowboats, and canoes. Three men from Opitsat were arrested and charged with Leach's murder. The trial took place in Nanaimo, with many witnesses from Tofino called to give evidence. "When the time came, twenty-four witnesses left Tofino on the Princess Maquinna for the trial," Dorothy Abraham wrote. "It was quite a holiday for everyone, at the Government's expense…The morning we left Tofino, one of the witnesses committed suicide, which rather complicated matters." The witness in question, Henry Hansen, may have visited Leach on his boat the evening he died. Speculation and rumour abounded in the town, and Hansen's death only deepened the mystery. The jury acquitted the three accused men, and Leach's murder has never been solved.
As a child growing up at Clayoquot, Mary Kimoto met "a tall English minister…[who] came calling on Clayoquot Island. He wanted all the Japanese kids to come to his church…We were all baptized…If you were wondering how my [Buddhist] parents felt about this Anglican Church thing, I think they wanted us to become part of the larger Tofino community." The minister, Rev. Philip Frank Ardagh-Walter, welcomed all Japanese families in Tofino to St. Columba Church. During his tenure in the parish from 1927 to 1930, he performed fifty-two baptisms, including thirty-five Japanese children. Many of them attended Sunday School regularly, bearing their weekly offering of one penny for the collection plate. "Being baptized and going to church meant they were becoming Canadian," according to historian Masako Fukawa. By contrast, the MacLeod children did not attend the Anglican church. Determined to maintain the traditions of the Free Presbyterian church, Alex MacLeod conducted a strict Gaelic Sunday School for his children and their cousins. "We couldn't play on the Sabbath," Ronald MacLeod wrote. "Couldn't go outside our yard except to go to Sunday school; no music except…singing the Psalms of David. No work except for works of mercy."
The Japanese boys had a lot more fun on Sundays. "We would meet the boys from Storm Bay at church and each of us had a can of worms and a fishing line," Tatsuo Sakauye reminisced in a letter to Dorothy Arnet. The boys hid the worms and line underneath the wharf at Wingen's machine shop, and then ran back after church to go fishing for perch off the wharf. Unlike the Anglican minister, the Roman Catholic priests in the area made no attempt to attract Japanese converts, focused as they were on the First Nations, although Father Charles did note on one occasion in 1923 that "a Jap boy" showed up at Mass at Opitsat.
For Tatsuo Sakauye, born in Tofino, his most vivid memories of growing up involved fishing and gathering seafood: "fishing for coho in the inlets, crabs, four kinds of clams, abalone, shrimps, snappers, perch and all that fresh nori [an edible seaweed]." The Sakauye brothers—six in all—would go every February to Chesterman Beach to gather nori. "We would come home with 20 100 lb [45 kilogram] bags of nori. After washing and rinsing the nori it would be spread to dry all over the neighbourhood."
Along with most other children in Tofino in the 1930s, Tatsuo loved seeing seaplanes land in the harbour. Although planes had been appearing sporadically along the coast since the early 1920s—first noted by Father Charles Moser in his diary in September 1921, when "a large flying machine passed over our school"—seeing them right in Tofino Harbour gave a special thrill. "We would drop everything we were doing and run along the beach to watch the plane land on the sea," Tatsuo recalled. Lorraine (Arnet) Murdoch did not share this delight. She recalled seeing a plane land in Tofino Harbour, a "wooden flying boat," when she was four or five years old in the early 1930s. It arrived to pick up her grandfather, George Nicholson, and a passenger on board asked Lorraine if she wanted to go for a ride. She refused, terrified by this unusual offer. In quiet Tofino, such excitements came around rarely; even a car ride provided significant bragging rights for the little boys. Tatsuo remembered only one car when he was growing up. The Wingens owned it, and one memorable day Harvey Wingen offered the Sakauye boys a ride through town to the government wharf. "It was a Model T Ford and had to be cranked at the front to start the engine…on the way back we had to jump out of the car and push the car up the [government wharf] hill…That was our first car ride."
Wanting the sons of the family to have a better Japanese education, the Kimoto family of Clayoquot sent their eldest son, Harold, to Cumberland, where a sizeable Japanese community had grown up around the coal mine. Johnny Madokoro also attended school in Cumberland. Other Japanese families sent their older children off to Victoria or to Vancouver for school if they could do without their help on the fish boats or around the house. For a year, Mary Kimoto attended high school in Victoria, boarding with Walter Dawley's family and helping with housework. Walter's wife, Rose, and their children had lived in Victoria for many years by this time, with Walter coming and going from Clayoquot. Mary, who had attended dances at the Tofino Community Hall, found herself teaching fourteen-year-old Clarence Dawley to dance "so that he could be ready for the Victoria socials…Clarence had to be 'proper' in his entrance into the local high society."
The dances in the Tofino Community Hall in the 1920s and 1930s saw many Japanese of all ages joining in. "The dance music was from a piano and I think Mrs. Nicholson played the cello," Mary Kimoto recalled. "That was our big night out. The hakujin [Caucasian] ladies made sandwiches and cakes, which were a treat for us." Johnny Madokoro, quoted in Settling Clayoquot, remembered, "We would go to all the dances. Even the first generation used to dance. I remember…one particular small man, he just learned to dance a little bit…and here was a tall, tall, white woman and they were dancing together. That was Mr. Nakagawa and Mrs. Abraham. We laughed our heads off."
Johnny Madokoro returned abruptly to Tofino from school in Cumberland when his father died in 1928. Overnight, he became head of the family, and his uncle Rinshiro helped him to take charge of his father's fish boat, the KM. "Man, I was one worried fourteen-year-old," he recalled. "I would follow [Uncle] out each morning…and he would guide me around the fishing grounds." Within a short time, Johnny single-handedly took charge, managing his boat and his catch of salmon just like the other men. With the other Japanese fishermen, he would be out on the trolling grounds by 4:30 a.m., often fishing off Round Island, which the Japanese called Maruyama. The Japanese trollers, by now mostly using two-cylinder, twenty-horsepower Palmer engines, took an hour or more to get out to the trolling grounds. Once there they generally set out eight lines with separate leads at four-fathom intervals. According to Johnny Madokoro, in their early years the Japanese set lines with four or five "Japanese-style lures," until Umetaro Morishita developed the lure he called the "shiny wobbler." "He saw a native Indian throwing something shiny from the shore one day. This fellow was catching salmon right from the shore…he saw it was a shiny piece of tin with a hook attached. That day he went home and made his own version of a 'wobbler.'" After many attempts, Umetaro came up with one that moved like a fish. His catch improved dramatically, and he shared the "shiny wobbler" with Johnny Madokoro's father and a few others. "The rest is fishing history," Johnny commented.
Settled into his routine as a fisherman, some days the teenaged Johnny Madokoro would haul in 226 kilograms of salmon by hand: "The best was the spring salmon, they could go to forty or fifty pounds [18 or 22 kilograms]. Usually they were smaller, perhaps twenty-five or thirty pounds [11 to 13.5 kilograms]. Coho were our bread and butter fish, they ran about six to ten pounds [2.75 to 4.5 kilograms]." Johnny's sisters and brothers now deferred to him as the head of the household: he had the first servings of food, and he could no longer roughhouse with his brothers. Nonetheless, he had to wait until he turned eighteen before he could join the men drinking sake and eating gochiso (special treats) during the New year's Day celebrations. At New year's the Japanese often put on a children's concert, with an open invitation for everyone in town to attend. A dinner afterward provided copious amounts of sake. According to Ronald MacLeod, "Only the ultra-strong made it home without some help."
When Kamejiro Kimoto drowned in a fishing accident off Wickaninnish Island in 1933, his children Mary and Tommy, both at school in Victoria, returned to Clayoquot. His eldest son, Harold, took charge of their father's fish boat, the KK, and the family all pulled together to help. Mary found work in Tofino helping the doctor's wife, Marguerite Robertson, around the house. Mary recalled Marguerite's concern that she might overhear improper songs when "Doc" and his friends were drinking, but Mary politely reassured her she heard nothing. "Later," she admitted, "when I was hanging out the wash, I absentmindedly started singing 'The bells of hell go ting-a-ling.' I looked up to see Mrs. Robertson shaking her head as she walked away."
Over on Stubbs Island, Mrs. Okada established a kamaboko (cod fishcake) factory in 1935. Her husband constructed the factory in a shed near their house on the island, and devised machinery to assist the production. In an article about Mrs. Okada's enterprise, Larry Maekawa described the ingeniously fitted-out shed where she processed ling cod into surumi, or fish paste, by means of a small engine that powered a series of belts and crankshafts wielding a large wooden mallet. This pounded cod fillets to the right consistency in the large concrete usu, or bowl, standing ready under the mallet. The surumi, once seasoned and cut into pieces, was deep-fried in a large vat. Cooked to a golden brown, the patties of kamaboko went into one-pound cans, vacuum-sealed by Mrs. Okada in a complex two-step process. She lined up the cans on her small conveyor belt, tightly hand-crimped each top, and pasted labels on the cans before packing them in wooden crates, forty-eight to a box. This kamaboko travelled on the Princess Maquinna to Victoria, and on to markets in Vancouver and also Kelowna, to satisfy the enthusiastic demand of the Japanese communities there. Mrs. Okada could barely keep up with their orders; her business generated as much income as her husband made fishing.
In Tofino, at her home on the Eik property, Mrs. Nishimura also made kamaboko in a small shed. In the summer of 1940, a local mechanic, Ralph Telvik, helped her rig up the machinery, using a car engine to turn a belt that drove the wooden hammer, pounding the fish into paste in the concrete usu. Decades later, Edward Arnet told historian Midge Akukawa, that the Nishimuras hoped to export their kamaboko, but war intervened. When they were evacuated from the coast in 1942, the family left behind some twenty cases of kamaboko, each containing forty-eight cans. "In 1946 when [Ed] and his father checked the cans," wrote Midge Akukawa, "the ends were bulging, and the contents were a pale yellow. They opened the cans, poked holes, and dumped them off-shore."
At the age of eighteen, in September 1938, Mary Kimoto married Johnny Madokoro in Tofino at St. Columba's Church, a big event for the whole community. One of the little Arnet boys enlivened the proceedings by "dancing around trailing toilet paper from his head saying, 'I'm Mary Kimoto, I'm Mary Kimoto.'" "Mary looked so beautiful, but she did not look up, she did not want to appear bold," recalled Marguerite Robertson. Everyone attended a reception afterward in the community hall, vividly remembered by Sid Elkington because he had to leave abruptly, in high spirits thanks to the sake. As one of the local storekeepers, he had to respond when salesmen came knocking, which they did at any hour, depending when their boats arrived. The Mackay, Smith and Blair Drygoods man came to find Elkington at the wedding reception, taking him away to the company's boat to view samples and place an order. Elkington's festive eye lit upon some "rather striking ladies' panties and bras with bright coloured flower patterns," which he decided would be just the thing for Tofino. "When the order arrived, in the cold sober light of a working day, they did look rather bright." His wife, unamused, told him they would never sell, but "to my great relief, they went like wildfire, catching Mrs. and Miss Indian's eyes—the order was too small."
Johnny Madokoro became actively involved in the Tofino Trollers' Co-operative Association. Formed in 1924 and continuing until 1941, the Trollers' Co-op became a central feature on the Tofino waterfront. The fish-buying vessel Rose N often appeared there, along with the co-op-owned Western Chief, both packing salmon to the Seattle market. According to Ronald MacLeod: "The Japanese were much more accommodating than the non-Japanese. They bought fish from whites and Indians and took non-Japanese in as members…It cost a dollar a year to be a member, at least in the early 1930s." As president of the Trollers' Co-op for many years, Mitsuzo Nakagawa developed good working relations with the Tla-o-qui-aht fishermen. According to Masako Fukawa, he was the "only non-Indian to be permitted on the Indian Reserve in Tofino [Opitsat] at that time."
During the years the Japanese lived in and near Tofino, they became an integral part of the community, garnering respect from all quarters as fishermen, as residents, as generous hosts. Describing his business at the Tofino Machine Shop in the 1920s, Mike Hamilton wrote to his fiancée, Mabel, that he had scant use for some of his customers. He dismissed First Nations clients because "they have inferior boats and engines and anyhow they don't look after them," and he had equal disdain for "the white people with boats [who] are few and are also poor customers, what few there are usually broke." Then he described his Japanese customers: "Our best customer in every way…They usually have splendid boats & engines they keep them in good condition...They are good payers, always cheerful and ready to lend a hand let it be financial or otherwise. They will subscribe to any good cause to their last cent. In short they are ideal citizens notwithstanding all that has been said against them."
"Ideal citizens" or not, the period of Japanese Canadians living in Tofino as productive members of the community would soon come to an abrupt end. When World War II began in 1939, their days on the coast were numbered. Drastic change lay ahead.
[To Top] [To Contents]